Doctors & Staff
Meet the experienced and friendly doctors and staff who make Pryor Vision Source the leading provider of vision care products and services in Pryor.
Douglas B. Pearson, O.D.
After graduating from Pryor High School, Dr. Pearson earned his bachelor's degree from Oklahoma University in psychology. He went on to attend the Southern California College of Optometry where he obtained his bachelor in science and his doctorate in optometry. While attending SCCO, Dr. Pearson held the position of senior class president and was awarded the Al Dennis Award for outstanding senior. Dr. Pearson was employed by the Coast Contact Lens Company for two years as a contact lens research investigator. He then opened his private practice in Pryor, Oklahoma, in 1983.
Dr. Pearson is a member of the American Optometric Association and the Oklahoma Optometric Association. Since starting his private practice, he has been a consultant to the Vision Educational Foundation and the Oklahoma Vision Therapy program, as well as a member of the Vision Source practice management group.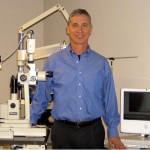 As an active member of his community, Dr. Pearson is a member of the Lions Club Sight Programs in Pryor and Adair as well as the Masons Sight Program. He has been a Vision USA provider, offering basic eye health and vision care services free of charge to uninsured, low-income families. He has provided his vision expertise not only in the United States but internationally, traveling to China in 2001 and 2007 for the International Mission Board.  In his efforts to support the continued growth of the city of Pryor, Dr. Pearson has served as a member on numerous community, church and school committees over the last 25 years.
Dr. Pearson's professional passion is educating his patients who have or who are at high risk of vision loss due to medical issues.  His many years of practice and dedication to his patients has made him an outstanding provider of ocular disease treatment and care.